Text archives Help
From: Ashu Chaturvedi <ashu@case.edu>
To: scirun-users@sci.utah.edu
Subject: [SCIRUN-USERS] converting old field files into new ones
Date: Wed, 6 Feb 2008 16:20:02 -0500
---
Hello all,
I have a quick question regarding converting my old *.fld files into ones that can be read by the latest version of SCIRun. The old version we have been using was v1.25.0, and I've grabbed the latest v3.0.2 from your svn trunk. The error I get is captured in the attached screenshot. Any suggestions on how I can easily convert old field files to the new ones? Previously, a simple change in the headers was enough, but I checked the header info (with a text editor) and they seem to be similar now. Thanks in advance for your help!
--Ashu Chaturvedi
ashu@case.edu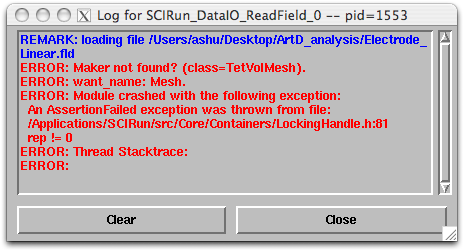 ---
[SCIRUN-USERS] converting old field files into new ones, Ashu Chaturvedi, 02/06/2008
---
Archive powered by MHonArc 2.6.16.