Text archives Help
From: Ashu Chaturvedi <ashu@case.edu>
To: scirun-users@sci.utah.edu
Subject: [SCIRUN-USERS] Is the IntegrateCurrent module working correctly?
Date: Sat, 5 Jul 2008 20:40:52 -0400
---
Hi there,
I'm having some weird issues with the IntegrateCurrent module in my SCIRun network. I wold like to note that I'm using a v3.0.2 unix source build of SCIRun on a linux workstation.
After hooking up all the input ports to IntegrateCurrent, I get an error in the module that is shown below: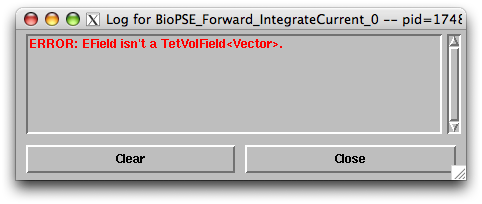 I'm not sure why it keeps saying the the first input port EField isn't a TetVolField<Vector>. When I do a ReportFieldInfo on that input, it seems to be what it wants:

As you can see, it appears to be a TetVolMesh<Vector>... does anyone have any suggestions on how to fix this problem? Hopefully it's something blatantly obvious that I'm missing. Thanks in advance for your help!
--Ashu Chaturvedi
ashu@case.edu
---
[SCIRUN-USERS] Is the IntegrateCurrent module working correctly?, Ashu Chaturvedi, 07/05/2008
---
Archive powered by MHonArc 2.6.16.